How much does it cost to search the Social Security Death Master File?  Here is a quick overview of your options.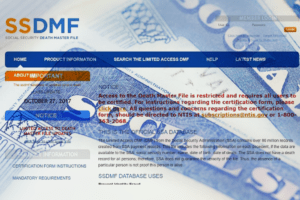 Some corporations conduct regular DMF searches as good compliance protocol; others are forced into it by newly enacted regulations.  But whatever the reason, the obvious first question for any corporation contemplating regular DMF searches is: How much will this cost?
If only the answer were as simple as the question.
A fast glance at the SSDMF website reveals a basic price list, but doesn't really outline your options.  There is a list of pricing options for batch queries, but there is no mention made of large-scale searches that exceed the highest limit, nor is there comprehensive discussion of other, more cost-efficient options for those who must utilize the system on a grand scale.  The NTIS site is more revealing; but for those who want to cut to the chase without scrolling through all the fine print, here is the scoop in a nutshell.
Essentially, when it comes to DMF searches you have three options.
Option 1:  Batch or manual queries
This is the most elementary option.  Social Security Death Master File offers users the option of paying for a designated amount of queries, conducted by a specified number of users.  Utilizing this service is simple, in that users can simply export their data for automatic searches by the SSDMF.  The downside is that the process becomes prohibitively expensive for large scale users of the system, who can easily rack up a bill of hundreds of thousands of dollars by conducting regular queries against all of their members.
Furthermore, this option does NOT provide the user with access to the actual data within the Death Master File.  The query search simply checks for matches between the company data and SSDMF data; but company employees do not receive access to the complete Death Master File listing.
NTIS offers the option of purchasing the raw data contained in the DMF.  This is a one-time purchase that includes the complete DMF listing, consisting of more than 86 million records.  In addition to purchasing the Death Master File, users must also sign up to purchase regular updates of new listings, available in quarterly, monthly, or weekly updates.
This option is far more cost-effective for large-scale users, but ridiculously overwhelming for use on the small scale.  The downside to this option is that the raw data purchase does not include a method of searching. Buyers must prepare their own software applications in order to make use of the data.
A listing of products and pricing for DMF raw data may be accessed by clicking here.
Option 3: Third party vendor searches
Your final option is to subcontract with a third-party vendor.  Third party vendors typically purchase the raw data version of the DMF, and create a software program to go along with it.  Often, third party vendors can offer the best combination of cost-efficiency and convenience, by tailoring an automated query package to the client's needs.