What is the LEIE?
The LEIE is the federal Department of Health and Human Services' Office of Inspector General's "List of Excluded Individuals and Entities". This database is also commonly referred to as the "OIG Exclusion List". The LEIE is maintained by the OIG and updated monthly.  Exclusion is the most extreme civil sanction that can be imposed by the OIG.
The LEIE lists all currently excluded individuals and entities who are in ineligible to participate in federal health care programs because of criminal activity or serious professional misconduct. The LEIE does not include historical exclusion data.
The purpose of the LEIE is two-fold:
To ensure that federal health care program beneficiaries have access to high quality providers; and
To prevent any federal funds from flowing to individuals or entities who have demonstrated their disregard for the law and high standards of professional conduct.
The LEIE is one of two primary federal lists that must be checked for exclusion status by all entities that receive federal health care program funds. The other list that must be checked is SAM.gov. These  lists are used by federal and state regulators as well as health care employers to regularly screen their employees, job candidates, board members, providers, suppliers, vendors and volunteers for exclusion status.
What information is provided in the LEIE?
The LEIE lists the individuals and entities cannot participate in federal health care programs due to criminal convictions or professional misconduct.  Most exclusions by the OIG start with a state's report of a criminal conviction or professional sanction of an individual or entity. States are required to submit information about individuals and entities excluded at the state level for criminal convictions and professional misconduct.  Upon review, the OIG reviews state submissions and imposes the appropriate exclusions prior to inclusion on the OIG Exclusion List.
There are two types of exclusion – mandatory and permissive. The type of exclusion imposed is dictated by the criminal behavior or the misconduct at issue. Most individuals on the LEIE have been convicted of a felony or misdemeanor related to a federally funded health care program such as Medicare, Medicare and SCHIP.  However, an exclusion can also result from patient abuse or neglect, convictions related to controlled substances as well as lesser offenses such as defaulting on a student loan or revocation, suspension or surrender of a professional license related to professional conduct.
There are two versions of the LEIE database – the online searchable database and the entire database that can be downloaded. The LEIE shows the exclusion type imposed (citing the statutory authority for the exclusion (such as "1128b8" is referring to 42 USC 1128(b)(8)) as well as limited information about each excluded party. The LEIE does not state the exclusion period, which can vary from one year to permanent exclusion.
Below is an excerpted section of the current downloadable LEIE database:

Using the LEIE online searchable database for the specific individual noted above, the results allow users to verify identity using the party's SSN or EIN: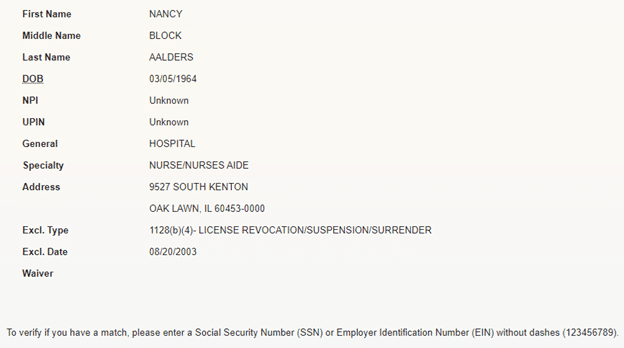 Why is the LEIE important?
The LEIE is important for many reasons:
If used consistently, it ensures that Medicare and Medicaid members receive high quality medical care from providers and suppliers who do not engage in criminal or professional misconduct. It prevents bad actors from accessing federal dollars and is a primary bulwark against fraud.
Organizations that participate in federally funded health care programs such as Medicare and Medicaid are contractually required to routinely screen for contracted or employed individuals and entities who are ineligible to participate. The LEIE streamlines the screening process for these organizations by providing a current list of excluded parties.
It is the national repository for state and federal exclusions. Most states maintain their own list of providers excluded from participation in state health programs, but many do not. These states rely on the OIG's LEIE to track and publish excluded provider information for  their states.
Should all health care organizations screen against the LEIE?
Yes, if they receive federal reimbursement directly (as a contractor with Medicare or a state Medicaid program) or if they are downstream as a subcontractor.  Screening is contractually mandated for federal and state health care contractors and their subcontractors. Below is a typical Medicaid contract provision found in a California Medi-Cal contract:
                Tracking Suspended Providers. Contractor shall comply with 42 CFR 438.608(a)(8) and 438.610. Additionally, Contractor is prohibited from employing, paying, contracting or maintaining a contract with Physicians or other health care providers that are excluded, suspended or terminated from participation in the Medicare or Medi-Cal/Medicaid programs. A list of suspended and ineligible providers is maintained in the Medi-Cal Provider Manual, which is updated monthly and available on line and in print at the DHCS Medi-Cal Web site (http://www.medical.ca.gov) and by the Department of Health and Human Services, Office of Inspector General, List of Excluded Individuals and Entities (http://oig.hhs.gov). Contractor is deemed to have knowledge of any providers on these lists. Contractor must notify the Medi-Cal Managed Care Program/Program Integrity Unit within 10 state working days of removing a suspended, excluded, or terminated provider from its Provider Network and confirm that the Provider is no longer receiving payments in connection with the Medicaid program.
There is a very short list of health care organizations that may be exempt from the federal list screening requirement. If a medical practice offers only concierge care or accepts only private-pay clients or  receives no federal funds as a subcontractor, screening against the list would not be required.  Very few organizations fall into this category. Even organizations not required to perform these OIG checks should consider routine screening because hiring or retaining staff who have a criminal background or who have shown questionable professional judgment is a bad business decision.
Are health care organizations explicitly required to check the LEIE every month?
Contracts generally require regular or periodic screening. The LEIE is updated monthly, so failure to check on a monthly basis can result in missing updates and inadvertently retaining or hiring an excluded party.  As noted in the Medi-Cal contract provision above, contractors may be deemed to have knowledge of exclusion whether or not they check monthly. Failure to check monthly exposes an organization to potential breach of contract claims, civil monetary penalties and other administrative actions by state or federal authorities. While checking monthly can be labor intensive and tedious, organizations such as Streamline Verify offer a cost-efficient alternative to in-house screening and can provide comprehensive results that significantly simplify the process for employers. To assure that your organization has not been added to a federal or state list in error, it is prudent to screen your organization, its business names and its subsidiaries to avoid unwelcome surprises.
Want to know more?
Get a free consultation with no obligations attached.