What is an OIG check?
An "OIG check" is the process of ascertaining whether a particular individual or entity is found on the HHS Office of Inspector General's List of Excluded Individual/Entities (LEIE). Excluded individuals are prohibited from receiving reimbursement, either directly or indirectly, from any federally-funded health care program such as Medicare, Medicaid or SCHIP.
This database is updated monthly by the OIG and contains the list of all individuals and entities who are currently prohibited from participating any federally funded health care program. The OIG has the authority to exclude individuals and entities pursuant to section 1128 of the Social Security Act (Act) (and from Medicare and State health care programs under section 1156 of the Act). 
 The LEIE is also known as the "OIG Exclusion List". For more basic information about this list, please see the linked Streamline Verify article.
Who needs to perform OIG checks?
With rare exception, virtually all health care organizations and vendors receive some federal funds related to services and supplies provided to federal health care program enrollees. This includes reimbursement either directly from a federal program or as a subcontractor. The prohibition applies to individuals or entities receiving payment on any basis from federal health care programs, including fee- for-service, contracted or capitated payment. Therefore, hospitals, health plans, provider groups, home health agencies, hospices, rehab facilities, as well as pharmacies, medical transportation companies and durable medical equipment agencies (to name just a few) need to routinely perform OIG checks to assure that none of their employees, contractors, vendors, interns or even volunteers are on the LEIE. 
What information does an OIG check give you?
What information does an OIG check give you?
Using the OIG's online Searchable LEIE Database, searching for excluded individuals named "John Smith" produced these results: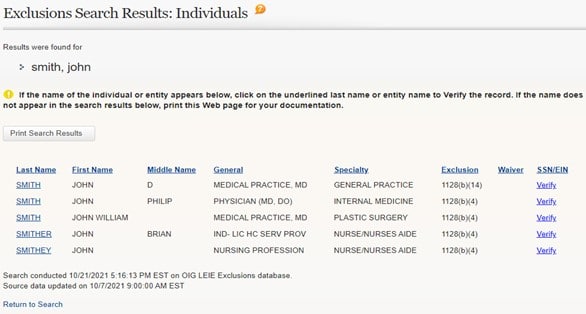 For more information about an excluded individual and the reason for the exclusion, click on "Verify".  Below is an example of the detail provided:
The simple example above does not necessarily reflect some of the challenges of using the LEIE.  Because the Online Searchable Database and the Downloadable Database include only the name known to OIG at the time the individual was excluded, any former names used by the individual (e.g., maiden name, previous married name, etc.) should be searched in addition to the individual's current name. There is no cross-reference function in the LEIE to other databases to check aliases and other previously used names. Also, an individual with a hyphenated name should be checked under each of the last names in the hyphenated name (e.g., Jane Smith-Jones should be checked under Jane Smith and Jane Jones, in addition to Jane Smith-Jones).
Do I need to do both an OIG check and state exclusion list screening?
Yes.  The OIG Exclusion List includes state exclusion data which is supposed to be submitted monthly to the OIG. In reality, some states report only sporadically. Even states that report regularly may submit data months after the conviction dates which trigger state exclusion.  Under the Affordable Care Act Section 6501, if one state excludes an individual or entity from participation in that state's Medicaid program, all states are required to exclude the individual. Therefore, the only way for an employer to assure that a potential or current employee is currently not excluded at the federal or state level is to check both resources. Employers are also required to screen regularly against the GSA's SAM.gov  database; to learn more about how the LEIE and SAM.gov differ, please see the linked article.
How do you verify whether the OIG check results match the person you are researching?
As shown on the "Exclusion Search Results: Verify" screen above, list users can verify a match by entering a provider's SSN or EIN. However, as noted on the OIG's "Quick Tips" page about how to search the LEIE, the search functions are quite limited. Therefore, if you do not initially find a match,  additional research in other federal or state databases may be required.
The time and staff resources for a provider, hospital or health plan to regularly screen against just these the LEIE and state exclusion lists, plus the GSA's SAM.gov, is considerable and not cost-effective for most organizations. Search findings can be ambiguous, requiring increased staff resources to rule out potential "false positives". For example, a name on the LEIE may be similar to that of provider but differs enough to rule out a clean match. These require further work and investigation to resolve ambiguities which can be very time consuming.   For the reasons states above, monthly monitoring against the LEIE as well as the other required lists can be a daunting and never-ending process that can leave your organization vulnerable to reimbursement and staffing problems.
From a business perspective, contracting with an organization that specializes in exclusion screening, like Streamline Verify, supports both contract compliance and avoidance of potentially significant fines. In addition, having this monthly process performed by an organization that specializes in the review process can save the time of your staff resources and eliminate the worry over potential fines lurking in updated LEIE each month. Streamline Verify clients report that on average, they are able to reduce staff workloads related to monitoring activities by 60%.
Using its propriety exclusion software, Streamline Verify can automate the monthly monitoring functions against the LEIE, SAM.gov and state exclusion databases. Streamline Verify also offers screening capabilities against other sanction lists and licensing lists.   Advanced search functionalities match name variations and NPIs against all exclusion databases, so that no potential matches are missed.
Want to know more?
Get a free consultation with no obligations attached.